Relying on the wisdom of crowds can be dangerous
EVERYTHING YOU KNOW ABOUT BUSINESS IS WRONG: Here's why it's not always best to follow the herd in business.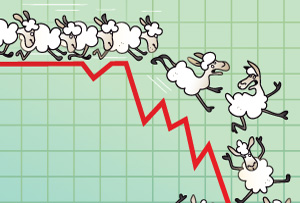 I'm seeing a lot of advertising for a 'social trading network', which allows you to 'trade with confidence' by 'automatically copying the leading traders in our community'. To my mind this sounds like an algorithm for losing money. You don't win in trading by following the herd - you either need to be leading it, or proceeding in another direction entirely.
Yet the idea of gaining confidence by doing what everyone else is doing is deeply seductive, because it's programmed into our psychology. It's called 'social proof' and is brilliantly expounded by Robert Cialdini in his book Influence. (Many of whose case studies are of con artists and sleazy salesmen. Just saying ...)
But you can't dismiss social proof (or its better-known variant the wisdom of crowds) completely. Relying on social proof can be either valuable, or highly dangerous. It depends on the context.