Respite for ITV as advertisers switch back to telly
A rare bit of good news from ITV, which says it expects ad revenue to increase next month.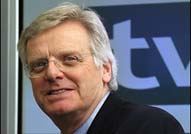 ITV investors haven't had much to celebrate lately (unless you count the inexplicable popularity of John & Edward). So it's probably no wonder the troubled broadcaster's shares shot up 8% today, after it announced that its advertising revenues were expected to rise for the first time in 18 months during December. Interim boss John Cresswell said the numbers had taken an unexpected turn for the better, and even sounded relatively positive about 2010. On the other hand, given that its annual revenues are expected to show an 11% drop, and it still hasn't appointed a chairman to replace Michael Grade, ITV is clearly not out of the woods yet...

Cresswell thinks ad revenues will be 4% up in December, thanks largely to better-than-expected spending from food retailers, phone companies and cosmetic groups. As a result, he said, revenues would probably be flat in the fourth quarter. That may not sound great, but it's definitely a step in the right direction, if only because ITV hasn't posted an increase in year-on-year increase since early last year. And he also had other snippets of good news to report: ITV's website is doing reasonably well, and it's maintaining its share of peak-time viewing thanks to shows like TV Burp and The X-Factor (where would ITV be without Simon Cowell?). Oh, and it's also used the proceeds of a new bond issue to pay down £75m of debt.

But although this was enough to boost ITV's share price today, the general picture still looks pretty grim. In the first nine months of this year, overall group revenues dropped 11%, with a 12% drop in income at its TV channels. Its pension liabilities have jumped from £538m to £655m in the last three months. And of course, it still hasn't got a new chairman or CEO. The fact that Cresswell - who's already announced that he'll be leaving the company - was delivering today's results only highlighted this rather glaring leadership gap.

The latest City type to be linked with the job is ex-Merrill Lynch chair Bob Wrigley. But given that previous candidates have been all too quick to rule themselves out as soon as their names were made public, investors probably won't be counting their chickens just yet.

In today's bulletin:
Bank of England to inject another £25bn of stimulus money
Respite for ITV as advertisers switch back to telly
Bad managers 'biggest cause' of work-related stress
A Traveller's Tales, MT's exclusive business travel blog
Sign up for our free MT breakfast debate - why bosses and IT types really need to talk more