Restaurants feel the squeeze
Not even its vastly expensive burgers will be enough to rescue Clapham House next year. The restaurant operator slashed its growth expectations for 2008 on Monday, citing a consumer spending slow-down, and along with another gloomy update from Regent Inns it was enough to send share prices plunging across the leisure sector.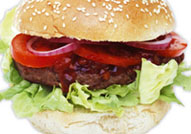 Clapham House, the company behind the Gourmet Burger Kitchen chain (plus lesser- known brands like Bombay Bicycle Club) said growth in 2008 and 2009 would be 'significantly below its original expectations', sending its share price plummeting by more than 40%.
The main culprit has been the under-performing Tootsies, a chain of eleven restaurants (mostly in shopping centres). Previously the most profitable part of the group, the chain has been feeling the squeeze in recent weeks thanks to 'pressure on UK consumer spending', according to the board. It's now going to scale back its original expansion plans for the chain, citing concerns about the 'uncertain economic outlook, potential food cost inflation and recent increases in rents'.
More bad news was soon to follow from a group operating in a slightly different part of the market. Regent Inns, owner of the Walkabout and Old Orleans chains, also sank like a stone, falling by 36% after issuing a profit warning. The company said punters are going out later and spending less, while the smoking ban and England's failure to reach Euro 2008 would also hit sales. Regent even said it would 'continue to look at corporate activity opportunities where we believe the business is well placed to deliver value through consolidation' – which presumably means it's open to offers.