Retail giants: You will spend money!
Tesco, John Lewis and London's West End are flexing their muscle to keep the tills ringing.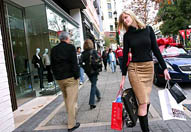 The trouble on the high street is official: consumption dropped 0.2% in the third quarter, the steepest fall since late 1995. And the big retailers are wasting no time trying to arrest that - introducing longer opening hours, cheaper prices and early VAT cuts. It's just a shame that not every retailer can afford such measures...
First up, shops in London's West End took the unusual move today of opening doors at 7am, lending a bleary-eyed air to the idea of doing your Christmas shopping early. More than 35 stores, including Topshop, M&S and Hamleys, are part of the Early Bird promotion offering discounts and personal shoppers, breakfast and even complimentary champagne. There's nothing like a bit of early-morning alcohol abuse to loosen those purse strings.
John Lewis, whose Oxford Street store isn't part of the Early Bird worm-catching, has been forced to follow the likes of M&S, House of Fraser and Debenhams by announcing sweeping discounts of up to 25%, particularly on its fashion range. The store is in an unenviable position: not only does it suffer from the shopper exodus, but it's also hamstrung by its 'never knowingly undersold' hook. So when House of Fraser is slashing prices on fashion, and M&S decides to run a one-day 20% off sale, the Partnership has to wield the discount stickers too.