Retail guru Mary Portas takes government to task over rates
The fiery-tempered Queen of Shops has branded government's failure to rethink the current business rates system 'a tragedy for the high street'. 'I'm hugely disappointed,' says Portas.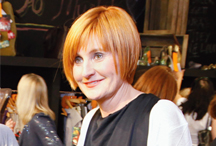 The government has announced that it will not review the current business rates system until 2017, two years later than originally promised. TV presenter, sometime entrepreneur and 'retail tsar' Mary Portas has called the move 'a tragedy' as it means that firms will continue to pre-2008 business rates during the recession.
Portas chagrin is understandable, given that government brought her in specifically to advise on how to kickstart the UK's flagging retail economy. Many of the points made in her planning review have been ignored or dismissed. Portas has, however, been charged with spearheading the government's ambitious 'Portas Pilots' regeneration project (which has an unfortunate resemblance to the name of biblical bad guy Pontius Pilot), aiming to breathe life into struggling high streets in 27 English towns.
A Department for Communities and Local Government spokesman has reacted to Portas' ire by insisting that it has delayed the rates review for good reason: lots of small businesses would be faced with a sudden increase in rates, which might put them out of business in these tough times, it reckons. 'Early estimates suggest that 800,000 premises would see a real-terms rise in their rates bill,' said a spokeperson from the Department. 'This would not be in the wider public interest, particularly when the Government wants to ensure the economy is growing.'