Retail round-up: It's bad, but not that bad
ONS figures show a 'thoroughly miserable' month for retailers, but anecdotal evidence suggests otherwise...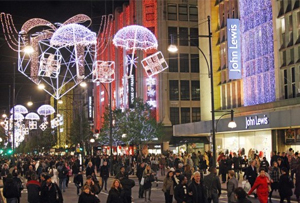 Depressing reading from the Office for National Statistics this morning, which says that sales in November fell by 0.4% on the previous month – 0.7%, when you take fuel out of the equation. There's nothing surprising about it – retailers have been complaining for weeks that the warm autumn weather put a dampener on sales of winter woollies, etc. But it is a bigger fall than analysts had been expecting. Although there is anecdotal evidence that things are beginning to pick up…

Well, sort of. The British Retail Consortium was still keen to impress that, after two months of growth, November's figures are a blow to retailers: director-general Stephen Robertson added that it's been a 'very trying month', and that 'non-food is having a thoroughly miserable and difficult time'. Indeed: non-food retailers had their biggest fall since February, led by muted sales of computers, watches, jewellery and carpets, while food retailers saw sales drop by the most in six months.

Slightly more encouragingly, there was strong demand online and as temperatures finally fell from October's unseasonably balmy start (and as retailers frantically discounted in order to rouse some interest from consumers), sales in clothing also recovered. Plus, sales during the three-month period from September to November rose 0.7%, making it the strongest three-monthly rise since August last year. So November could just be a blip.

That's certainly indicated by figures from retailers out this morning, many of which are decidedly encouraging. Take Zara, for example, whose owner Inditex reported a 10% rise in both profits and sales (although a lot of that is thanks to sales in Asia), with net income for the first nine months of the year rising to €1.3bn (£1.09bn), up from €1.17bn last year. Or Superdry, which says that because of a blunder in its warehouse, it doesn't have enough stock. Admittedly, that's going to cost it an estimated £5.8m in lost sales – but it suggests that demand is strong. Moss Bros has also had a strong few months, with sales in the 19 weeks to December 10 rising by nearly 10.5%.
Sports Direct was the only fly in the ointment, with profits falling by 1.7% to £99m in the 26 weeks to October 23. Although revenues were still up 8.4%, as were online sales, which rose a whopping 85%. And although the company says it's still not in a position to begin paying divis, in a fit of uncharacteristic altruism, its board of directors want (unpaid) executive deputy chairman Mike Ashley (who also happens to own 70% of the company) to start being rewarded. Thus, the next AGM will involve a vote to approve something called a 'super-stretch executive bonus share scheme', which might sound like something that should be stocked on its shelves next to its Kappa tracksuits, but is actually a glorified bonus scheme, to be paid if the company achieves an ebitda target of £265m in 2012. It's a game of two halves...