Retail sales warmed by winter clothing
The high street enjoyed a bump in September thanks to higher sales of winter clothes and school uniforms, according to the latest from the ONS.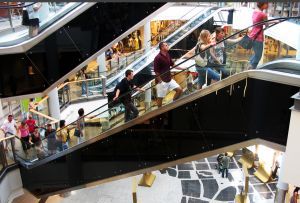 Another mildly positive set of stats to add to the confusing picture that is the UK economy. Retail sales have increased for Q3 at faster than at any time in the last two years, thanks to marginally rising employment at lower inflation. Total retail sales volumes were up 0.6% between August and September, two basis points above the 0.4% that analysts were expecting. Over the third quarter as a whole, sales rose 1%, which is the most it has risen since Q2 of 2010. Huzzah!
The ONS puts the growth down to a solid 2% growth in sales at clothing and shoe shops, where families have been buying up school uniforms and clothes for the colder winter months. But some of the growth, according to analysts, has come from one-off things such as the release of the iPhone 5. Sales volumes in consumer electronics shops rose a massive 7.6% thanks to the millions of Apple fanboys queuing round the blog to get hold of the very expensive gadget. Strip out the effect of this, and the figures may not be quite as good as they are. And they're not amazing as it is.
Nonetheless, the rise contrasts with a small sales dip in August, which has been largely put down to the Olympic effect, where people seemed to stay at home watching the Games instead of hitting the high streets for their retail therapy fix. But with employment rising very gradually, more people have jobs than at any time since 2009, and inflation has fallen from 5.2% to 2.2% in the same period. This has slowed the damage done to stagnant (if not falling) wages, and seemingly has made people feel as though they have a bit more cash in their pocket.