Retail therapy for high street gloom
ASOS and Domino's are emerging as two of the biggest winners from the current high street turmoil...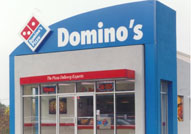 It's easy to see bad news everywhere you look at the moment – but there are some companies that appear to be eating the credit crunch for breakfast. Following Tesco's impressive results yesterday, two more well-known brands reported bumper figures this afternoon: online fashion retailer ASOS said sales have more than doubled in the last six months, while pizza delivery business Domino's has managed to boost sales by 19% so far this year. So it's not all doom and gloom out there…
It's true that most consumer businesses are having a pretty hard time at the moment (as evidenced by fashion businesses Hardy Amies and Miss Sixty today). But there is clearly money to be made if you get your proposition right. The success of ASOS is testament to its primarily young customer base, which is less likely to be feeling the squeeze from higher household bills and is doing more and more shopping online. Last year in the same period it increased sales by 80%, so the benchmark was high – but it's managed to do even better this time round, coming in well above analyst expectations.
As for Domino's, CEO Chris Moore says that his business is benefiting from customers 'trading down': people are choosing to stay in rather than going out to restaurants, but don't necessarily want to cook – so takeaway pizza offers an easy alternative (he reckons most people are too lazy even to take a pizza out of the freezer and put it in the oven, which is slightly depressing). It's continuing to open new outlets, but this isn't the only reason for the jump – even on a like-for-like basis, sales were up by 9% last quarter (and 10.5% for the year as a whole). Again, these are the kind of numbers that endear your company to analysts…