Retail of woe?
Next reported a disappointing drop in retail sales today – and it's all our fault. Apparently we're so busy paying off our higher mortgages that we're neglecting to spend any money in its stores. The odd thing is, this doesn't seem to be holding back some of Next's competitors…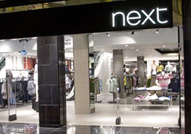 The high street retailer said today that sales in its existing stores dropped nearly 3% in the last three-and-a-half months. Only a slight improvement in online sales ensured that overall sales for the period were about the same as last year.
Next chief executive Simon Wolfson blamed the impact of five interest rate rises, which is making our mortgage repayments much pricier than they used to be. As a result, Next Retail sales will apparently be somewhere between 1% and 3.5% lower than last year – despite its expensive store refurbishment programme.
Like most retailers, Next suffered as a result of the great British summer wash-out. But some of its competitors seem to have done a better job of rising out the storm.