How retailers can attract international shoppers
Chinese shoppers have just beaten the world record for biggest online spend in one day - but how can retailers make sure they get the most from Chinese and other international shoppers when they visit the UK?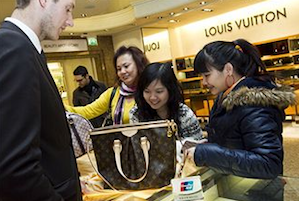 The number of Chinese shoppers visiting the UK has risen eight fold in ten years. These consumers, together with other high spending global shoppers from the likes of Qatar, UAE and Russia, are providing a valuable boost to retail revenues, spending up to four times as much as local customers, according to Global Blue.

Additionally, the World Tourism Organisation found that 83 million Chinese tourists travelled abroad in 2012 and of those that came to the UK, half spent more than £3,000 during a trip and accounted for 25% of sales of luxury goods around the world.

Retailers must now grasp the opportunity for growth that international shoppers bring by pulling out all the stops for visitors to the UK. This can be in simple terms such as a comfortable shopping environment or by offering native speaking staff and other VIP exclusives such as taxis to and from the visitor's hotel.

By offering tax free shopping to customers, retailers can also offer better value with no effect on product price. Such initiatives could be a viable alternative for struggling high streets – if Bicester Village can be a hub for overseas shoppers then why not other towns?

Customers win twice – by getting the discount on brands that are otherwise more expensive in their home country; and, saving on the tax. Combined, this can make for impressive savings. They also increase spend – a well-managed tax free service will encourage them to visit more often and spend more. For retailers, not only is this an additional service offering, it is a valuable source of revenue that is not price-sensitive, enabling them to earn the full margin and support investment in stores and stock, even when local demand is depressed.

But while some retailers offer tax free shopping to attract lucrative global consumers into their stores, most are still not offering the full range of value added services such as Dynamic Currency Conversion (DCC). DCC gives shoppers the option of paying in their own currency at the till point, attracting higher footfall and higher spend. This provides the advantages of convenience, familiarity and knowledge that they're paying the best (or better than) market rate – because they no longer need to wait until they get home to find out the real cost of their purchase.

Anything the retailer can do to make the end to end process simpler and less time-consuming for the traveller, is going to increase their popularity as a destination for shopping.

Paperwork should be made as simple as possible for consumers. This will be more convenient for leisure travellers and allow business travellers to see exactly what they are paying when they compile their expense reports.

Aside from the in-store experience, retailers should consider joining the UK China Visa Alliance, a lobby group (of which WorldPay is a member) dedicated to making it easier for tourists and business people to visit the UK. The Alliance has met with the Home Office, the Cabinet Office, No 10 and the Mayor of London – and as a result the Chancellor of the Exchequer George Osborne has announced new measures to simplify and streamline visa application processing for visitors from China.


Geoffrey Barraclough is head of corporate propositions at WorldPay