Retailers can't afford to ignore Black Friday
Visa Europe reckons shoppers will spend £1.9bn on the 'consumer holiday' this year.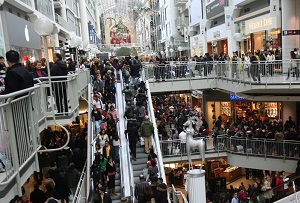 Black Friday is nearly here, but some retailers look set to give the annual 'consumer holiday' a frosty reception this year. The 'tradition', which originated in the US, really took off in blighty last year as legions of shoppers stormed the nation's supermarkets to brawl over cut-price TVs, games consoles and other assorted nick-nacks. It seems Britain's consumers are no less determined this year.
Visa Europe estimates that shoppers are planning to spend around £1.9bn this Friday, including £1.19bn in bricks and mortar stores. That second figure is up 4% on last year and 20% on 2013. They're also expected to spend £629m online on 'Cyber Monday' in the following week. Plenty of retailers will be gearing up to grab a piece of that action (not least Amazon, which has already started offering 'lightning deals'), but others are taking a stand against the practice.
Earlier this month Asda said it would be shunning a day of big discounts in favour of 'sustained savings spread across a traditional seasonal shop'. The fashion chain Fat Face will be donating 10% of its profits to charity instead of lowering prices ('Cynical discounting is not a sustainable model for UK retail,' its chief exec Anthony Thompson told the Guardian earlier this year).