Should retailers take a New Look at stock control?
With discounts everywhere on the high street, one retailer has been using technology to boost margins...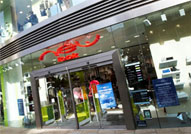 It probably hasn't escaped your notice that a lot of high street retailers are offering massive discounts at the moment, as they look to coax reluctant shoppers into their aisles. With demand falling, many stores are clearly struggling with stock overhang – so they're desperately trying to shift their merchandise in the run-up to Christmas. However, the example of New Look – which has actually managed to increase full-price sales by 2% in the last few months, while others have been slashing prices – suggests the appliance of science could be the answer…
New Look partly ascribes its success to a new stock control system called Q, made by IT company Quantum Retail, which allows it to track exactly which items are flying off which shelves when – so it can ensure that the right quantity of merchandise gets to the right shops at the right time. In other words, rather than being forced to make generalised assumptions, every store can have its own specific buying strategy. This reduces over-ordering – and as such reduces the need for discounting, because it's the leftover stock that retailers are forced to flog on the cheap (since it's not usually worth their while to transport it to another store). '[Q] has placed the customer at the heart of our stock management and delivered impressive financial paybacks,' says New Look chairman Phil Wrigley.
For a retailer, this can have all sorts of benefits. For a start, it makes the shop look nicer – rather than having the excess sales stock cluttering up the front of the store, so people will see it, the retailer can put its best stuff at the front and keep the shelves nice and tidy (although to be honest, the last time MT went into New Look it looked like a slightly unruly 15-year-old's bedroom, so we're not quite sure this always works in practice). But more importantly, it's good for the bottom line: this year retailers seem desperate to maintain sales volumes, but these heavy discounts are going to hammer profit margins. New Look, by contrast, has actually boosted its margin by 4% - and got a better understanding of customer buying habits to boot.