Retailers perk up despite dip in sales
Year-on-year retail sales dipped in April, but more outlets have opened across the UK so firms are hiring anyway.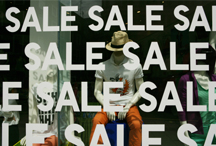 As household budgets are squeezed and big-ticket purchases are less affordable, the high street has had a hard time of late. Add news of a double-dip recession to the cocktail and few will be surprised that April's retail sales were down on last year's according to the CBI.
But it's only by a slight margin: 39% of retailers reported a fall in sales volumes, while another third reported a rise. The resulting balance marked only a slight fall in sales. This is not necessarily bad news for retailers, since these results are not unexpected, and many are anticipating an increase in the volume of sales for May.
Whilst the high street has suffered a series of high profile collapses and closures in the last year, the sector as a whole is enjoying a modest improvement. The number of retail outlets in the UK actually grew by 4.9%, an increase of 858 shops nationally. This helps explain why the first quarter of 2012 saw retail employment rise by 0.4% (around 3,000 jobs) compared with the same quarter a year earlier.