Retailers have a very soggy Christmas
Depending on which figure you believe, footfall was down by 6%, 5.7% or 9% last week. Either way, it wasn't great.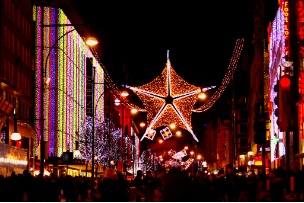 At this time of year, MT likes nothing better than to settle down with a mug of hot cocoa, the joyful sound of a choir singing carols in the background, to examine the retail footfall figures. It's the most festive activity MT can imagine.

But alas, this year the figures were such that we're unlikely to have a very merry Christmas at all. According to Experian, footfall was down 6% compared with a year ago, while research company Springboard found the number of shoppers had dropped 5.7%. For its part, the New West End Company, which - you guessed it - measures shopper numbers in London's West End, reckons footfall was down 9%. Bah, humbug.

As is traditional around this time of year, the finger was pointed in the direction of online retail, which (according to figures by the Office for National Statistics), now accounts for 11.9% of total sales. The other problem, reckon retailers, was the weather, which admittedly has been dire over the past couple of days.

Clearly, shoppers have been keen to avoid the wind (even if that does mean spending the week before Christmas in the seventh circle of hell, aka MT's local shopping mall): the number of consumers heading to indoor shopping centres jumped by 7.2% last week.

Diane Wehrle, Springboard's marketing and insights director reckons high streets have been 'dealt a bad hand' this year.

'Over the last two weeks, retail parks have stood out although over December as a whole shopping centres have performed best year on year… it is only really this last week that has been particularly tough for high streets - they outperformed both shopping centres and retail parks early on but inevitably have fallen victim to adverse weather conditions.' Although adverse weather conditions are sort of to be expected at this time of year...

Still: presumably Small Business Saturday, the day (7 December) set aside by the government for consumers to shopping in small retailers, was a success? According to a poll by American Express, which sponsored the day, £468m was spent in small businesses that day. So that's something. (how much would have been spent had there not been a sticker in the window is a question we'll ask after Christmas...).