Revenue goes after family businesses
As well as almost doubling their capital gains tax bills on exit, the government now wants to make sure that those nasty family-owned businesses are paying the full whack of income tax even before they think about selling up. And they're not going to let the pesky judicial process get in the way, either.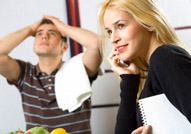 The government is proposing to change the law on 'income shifting', the practice where directors move part of their income to someone in a lower tax bracket or take it as a dividend in order to minimise their tax bills. It says the practice is unfair and artificial – though the fact that the changes could raise an extra £1bn in taxes is probably a major reason for their zeal…
It's been forced to bring in the new legislation after famously losing a crucial test case in July, involving IT business Arctic Systems. Following a four-year legal battle, the House of Lords ruled unanimously in favour of the company's owners, leaving the Revenue with a lot of expensive egg on its face. So now it's time for Plan B: change the law instead.
Under the new rules, thousands of small businesses will have to provide detailed justifications for every single payment they make to directors, to prove they deserve it – which means documenting exactly how much time and money they put into the business, and working out a 'reasonable' income. But what counts as reasonable exactly? And what about all the other work one partner might do outside the business to ensure the other spends all their time on the business (like childcare, for instance)?