Review: Mercedes S350 Blutec L AMG Line
With £50,000 of extras this hefty luxury saloon was no end of fun for everyone apart from driver Sathnam Sanghera.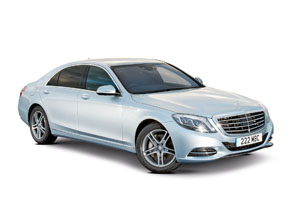 Ford is currently running a marketing campaign for its Kuga that revolves almost entirely around a single feature – its kick-activated tailgate. Which seems somewhat reductive, like using a picture of your earlobe as a profile picture on Tinder. And a waste, given that there are many other things that make it a very good car.
But in the case of the new Mercedes S-Class, an ad campaign concentrating on the extras would make sense. For this is less a car with options, than a load of options with a car attached – an entity, like Jordan, or David Gest, entirely defined by the add-ons. The price of the basic model may be around £71,000, but my test car, which came with a list of options so long that I gave up reading about them after several minutes, brought it up to £120,000. You could buy five small cars for the cost of the options alone. Which is insane. But also huge fun.
The S-Class isn't a great drive – the countless aids rather detach you from the road, while safety features such as the night-view assist and the pedestrian-detection system are forever beeping at you, making you feel as if you're actually crash landing a jet rather than piloting a car. Also it's so big and powerful that even with the smaller engine option it is stressful to thunder down anything other than a motorway.