Review: Mitsubishi Outlander PHEV GX4
Grand claims are made for this hybrid's range, but it won't go anywhere if you don't put it to bed properly, says Matthew Gwyther.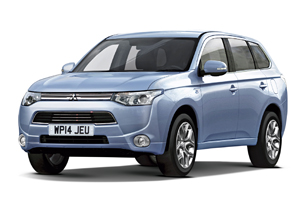 Petrol may be the cheapest it's been for ages but there's still a planet to save. While Tesla is going all electric with its offerings, most mere mortals cannot afford £100,000 for its sexy Model S. In the meantime, the Outlander PHEV is an interesting plug-in hybrid offering from Mitsubishi at less than £30,000.
The car's driveline was custom-made for it and consists of a 2.0-litre, four-cylinder petrol engine, with the inverter and charger at the front, the battery pack under the floor and two 80bhp electric motors, which permanently drive each end of the car. The engine charges the battery via a generator when the car is in series hybrid mode and partly drives the front wheels at speed and generates current in parallel hybrid mode. Got that?
Testing one of these has an interesting effect on your driving. You actually begin to take a close interest in how you're doing in the war on carbon - you are careful with your right foot and spend much time in close study of the dashboard displays and your energy use. You find yourself coaxing the thing around town testing how far you can get on a full charge without allowing the petrol engine to start filling the streets with CO2.