Review: Renault Grand Scénic
Buying a people carrier is a bit of a midlife milestone. But Matthew Gwyther has fallen for his 'Battle Bus'.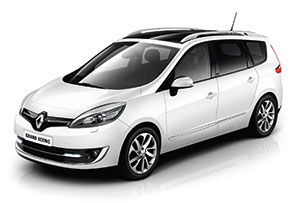 There comes a point in most guys' lives when they are forced to succumb to the people carrier. (Girls rarely feel it with the same pain.) It's a desperate watershed moment, signifying that you're never going to have that Porsche 911 but are going to be made to pilot a lumbering ship of juvenile fools - your kids - for the foreseeable future. And that you're probably closer to death than birth.
It happened to me about five years ago and I bought a Renault Grand Scénic. Slightly used. In light blue. I know. But do you know what? I'm rather fond of it now. Our relationships with cars are strange things - more complex than with any other manufactured possession. Who feels a soft spot for his flatscreen telly? I've now owned nine cars in my life and the Scénic is probably in the top three in my affections.
The newer model is hardly a massive leap forward. Indeed the fact that this one was powered by the Jezebel's juice - diesel - may be construed as a downside. I discouraged the children from direct inhalation of the exhaust pipe. When the Scénic arrived way back in 1996, what made it ground-breaking was its clever intuitive use of interior space and versatility. If you didn't want a barge like the Espace but wanted to transport paraphernalia - human and inanimate - it was the answer. It has cubby holes I've yet to discover.