A revolution in discs
The times they are famously a- changin' for the music industry, as creaking label giants continue their struggle to keep up with developments in technology. EMI was the latest company to undergo major upheaval, bought this summer by private-equity firm Terra Firma for £2.4bn with a vow to inject life into its digital distribution. But now those peddling music as a tangible, tactile product have come up with a new format to battle the rise of the mp3 – a disc that is a CD on one side, and vinyl on the other.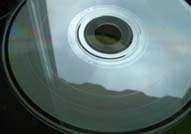 Adversity, as they say, breeds inspiration. Indeed the desperation of the idea recalls Alan Partridge's attempts to rescue his TV career with pitches for shows including 'monkey tennis', 'inner-city sumo' and 'youth hostelling with Chris Eubank'. Still, there is some logic behind it. Ninety percent of all single sales now come via online and mobile platforms. And while sales of CD singles have fallen, the 7" single is experiencing a renaissance: annual sales increased from just over 200,000 units in 2000 to more than one million units in 2006. And they were up by 12.9% in the first half of this year, lead by the White Stripes' Icky Thump.
Logical or not, rock band Fightstar will pioneer the format next month, with the release of its single, Deathcar. The hybrid can hold 70 minutes of music on the CD side, and around three minutes on the vinyl flip. Which begs the question: why not just include that three minutes of music on the CD side and be done with it? Indeed even Fightstar's label boss, Guy Holmes, admitted the breakthrough was little more than a gimmick. Holmes should know a thing or two about those. Bright ideas of his past include bringing us both Right Said Fred and the Crazy Frog.