Rich List not so rich any more
Britain's richest 1,000 people have lost about a third of their wealth in the last year - some £155bn. Ouch.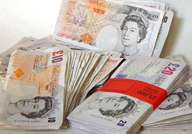 The wealthiest people in the UK are, not surprisingly, a lot less wealthy than this time last year, according to the latest Sunday Times Rich List. Compiled by former MT editor (and regular contributor) Philip Beresford, this year's top 1,000 have seen their combined wealth shrink from £413bn to £258bn. That's the biggest such drop in the List's 21-year history, and means that a third of their assets have gone up in smoke in the space of 12 months. Even if you're a multi-zillionaire, losing that much cash has to sting a bit.
The 'biggest loser' was steel tycoon Lakshmi Mittal, as the collapse of the world's steel market wiped nearly £17bn of his personal net worth. Then again, that still leaves him sitting on a pile of £10.8bn – so he's still the richest person in the UK by quite some distance. Mittal has been helped by the fact that his fellow billionaires have also taken a pasting – 32 of last year's 75 billionaires are now mere millionaires. One of them, Sir Tom Hunter, the Scottish entrepreneur and philanthropist who's seen the credit crunch put a big dent in his property and retail fortune, actually asked to be removed because he's giving most of his money to charity (which means he didn't drop out, as we first thought when we saw the list).
This year's Rich List seems to have got an awful lot of coverage, presumably because it gives a concrete indicator of how much wealth has been destroyed by the financial upheaval of the last year – and reveals some of the people who have paid the heaviest price. After years of watching the very rich getting ever richer, this is a pretty spectacular decline – although we can't imagine you'll be losing too much sleep over it. Indeed, many people will no doubt feel a certain amount of schadenfreude that some of these plutocrats have been suffering – particularly since it's hard to feel too sorry for anyone with an eight-figure sum in the bank. It's all relative, as Beresford told MT this morning: 'Don't despair for the rich – their pain is nothing compared to losing your job or your house if you're a normal person.'

On the other hand, it's not just the mega-rich like these who will be hammered in the coming years, as commentators have been quick to point out. Now there's an enormous hole in the public finances, and with public spending sucking up an ever greater share of national income, the Government may try and squeeze more cash out of all of us, particularly high earners. Labour's latest hike in the top rate of income tax has already attracted opprobrium from some of Britain's top businesspeople. Entrepreneur Hugh Osmond reckons he'll just move overseas – and since most of these people are highly mobile, we wouldn't be surprised if more of them did the same before next April. So the List could be even less Rich next year.