Rigby and Peller's June Kenton: Fitting the Queen was 'nerve-wracking'
You Live And You Learn: The director of bra-maker Rigby and Peller on the 'horrific' retail situation, fitting the Queen, and working with her husband for 51 years.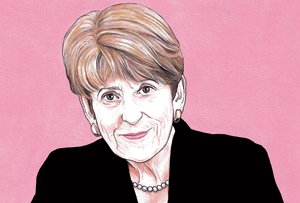 I'm a retailer born and bred. My grandparents were butchers and my parents owned a clothes shop. I joined the family business aged 16 at my father's wishes, even though I desperately wanted to stay at school.
My husband and I started selling clothes in Brixton market in the winter of 1961. It was fantastic - the Jamaicans were coming over and they were freezing so we sold lots of vests and sweaters. But I wanted to specialise in lingerie. In 1970 we opened Contour, our first underwear store, in Croydon and then a second one in Knightsbridge.
I got a phone call in 1982 asking if I'd like to buy Rigby and Peller. It was doing very badly and my husband didn't want to touch it. I got my way and we dolled up the shop, introduced ready-to-wear ranges and moved it from Mayfair to Knightsbridge. Now there are 10 stores.