Riise's own goal
MT was rather nonplussed yesterday when the wage slip of Liverpool footballer John Arne Riise landed in our inbox. Sadly it was just a picture, rather than a bank transfer, but it will inevitably stir up more debate about excessive salary packets.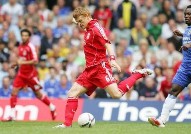 The payslip, dated September 2006, showed that Riise was paid £139,634 for his month's work, including a basic salary of £120,000 plus almost £20,000 in appearance and win bonuses. Nice work if you can get it. Although he did have to fork out £65 on club meals (it's good to know these millionaire footballers get a heavily subsidised canteen).
Riise's spokesman claimed that the payslip had been stolen, but admitted his client had no idea when or how. Several Liverpool players have been targeted by burglars, but Riise wasn't one of them.
Terrible breach of privacy it may be (the slip also shows Riise's NI number and home address) but the revelation is bound to re-open the ongoing debate about footballers being disgustingly overpaid.