Rio Tinto slashes 14,000 jobs after BHP bid collapse
A plunging share price and rising debt costs are forcing miner Rio Tinto to cut 14% of its workforce...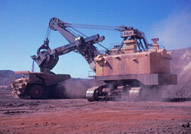 Rio Tinto, the world's third-biggest miner, said today that it plans to shed 14,000 jobs over the next year as it looks to reduce its massive debt burden. Rio currently owes nearly $40bn to its various backers, and the cost of servicing this debt is going to soar over the next year. And now that rival BHP Billiton has withdrawn its hostile bid, there's little prospect of a deep-pocketed suitor riding to its rescue. After seeing its share price plunge 80% in recent months, Rio has clearly decided that radical action is required - but it's a sign of just how bad things are getting in the global trade arena...
Rio's cuts will mean that 5,500 staff and 8,500 contractors will get the boot – equivalent to nearly 15% of its 97,000-strong global workforce. Some of these redundancies could come in the UK: only 2% of its workforce is based here, but it is planning to merge its two London offices (quite why it had two in the first place, we're not quite sure). 'Given the difficult and uncertain economic conditions, and the unprecedented rate of deterioration of our markets, our imperative is to maximise cash generation and pay down debt,' Rio chief exec Tom Albanese said today.
As part of its cost-cutting drive, it's also slashing its capital expenditure plans. 2009 spending will be cut from over $9bn to just $4bn – and it's unlikely to ramp this up in 2010, unless conditions improve significantly. That's a fairly savage cut, which won't make its exploration and production activities any easier. But when you've got a debt pile that's nearly twice your current market value, presumably you have to start cutting your cloth accordingly (unless you're the British government, perhaps). And investors seem to like it: its shares are 11% up this morning.