Rio Tinto tanks as BHP Billiton scraps mega-bid
Shares in Rio Tinto plunged today after BHP Billiton walked away from its proposed $66bn hostile bid...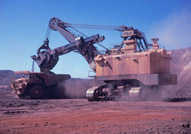 BHP blamed regulatory pressure and falling commodity prices for its decision to call off the bid, which would have been worth about $66bn based on the two firms' respective share prices yesterday. Apparently the European Commission told BHP that it would have to sell off some of its existing businesses to get the deal past the competition regulator – and now commodity prices have fallen from their previous highs, clearly the sums no longer add up.
When the prospective deal was announced, just over a year ago, the merger would have been worth more than $140bn – one of the biggest corporate tie-ups in history. However, the continuing falls in commodity prices have hammered the share prices of both companies, and the deal was now worth less than half as much. BHP CEO Marius Kloppers insisted that the tie-up was still compelling in principle, but too expensive in practice – even at this lower price. 'The greater debt exposure of the combination plus the difficulty of divesting assets have increased the risks to shareholder value to an unacceptable level,' he said today.
BHP would have been forced into divestments both to satisfy the EU competition regulator, and to pay down some of combined group's debt pile. The EU would apparently have forced it to sell some of its iron ore and coal assets, and BHP doesn't think it would have been able to get a decent price for them in the current climate. Kloppers also highlighted falling prices for the commodities produced by the two miners, pointing out that copper has fallen 21% in the last month alone (after a 43% drop in the preceding year).