Rise of hackers behind Intel's $8bn McAfee bid
Chipmaker Intel pays big bucks for McAfee, as it looks to move beyond its traditional market.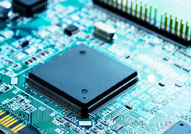 On the face of it, Intel's surprise move for McAfee looks like an odd one - why would a chipmaker want to buy a company that makes anti-virus and firewall software? Well, it's partly about diversification, of course. But it's also an acknowledgement that the computer industry is facing an ever greater threat from nefarious hackers and virus-writers - and to combat this, tomorrow's PCs, laptops, tablets, mobiles and so on are going to have to make security an even greater priority...

With a price tag of $7.7bn (a hefty 60% premium to McAfee's previous share price), this is a big deal even for a company of Intel's size. And it might not seem an obvious fit with its recent strategy, which has involved buying smaller companies in the 'connected devices' area. Intel is desperate to translate its dominance of the PC market into mobiles and other internet-connected devices, where it currently has relatively little presence. And since this latter category will presumably include pretty much every electronic device, eventually, you can see why.

But perhaps the deal's not as left-field as it first appears. As more of our devices become internet-enabled, and we spend more and more of our time online, the security threat is growing; McAfee itself said recently that it had uncovered a record number of malware threats in the first half of the year, as pesky hackers tried to get access to our personal data (or just make life difficult for the hell of it). Intel now plans to make security a fundamental component of its next-generation chips. And since it thinks this will be one of the key factors device-makers consider when choosing chips (along with energy efficiency and connectivity), this could give it a competitive advantage as it tries to break into the mobile market.

So this is a deal that will help Intel diversify out of its traditional speciality - making chips for PCs - into other devices, and into software and services more generally. With the internet likely to play an ever-increasing role in our lives, that sounds like sensible future-proofing to us.
In today's bulletin:

Asda and Tesco target Ocado - as online retail boom continues
Bad managers to blame for local government inefficiency?
Rise of hackers behind Intel's $8bn McAfee bid
Chrysalis sings the praises of ad royalties as profits jump
Small businesses bear the brunt of slowing bank lending