The rise of the introvert
Business has always been seen as the preserve of the big personality. However, in her new book, Quiet, Susan Cain says it's time more thoughtful and reserved types got their due. Will introverts lead a quiet revolution?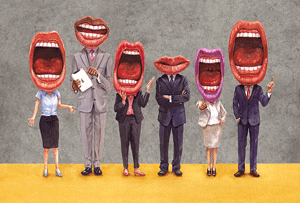 Between a third and a half of the people you manage are not fulfilling their potential. The way they think, the way they communicate, and the way they work are at odds with modern business culture. And it is getting worse.
Those are the implications of Quiet, a provocative American bestseller by Susan Cain, a former corporate lawyer. Subtitled 'The power of introverts in a world that can't stop talking', the book suggests that, by succumbing to the noisy charms of the extrovert, society and business are missing out on the insight and creativity of the more thoughtful part of the population. The undervaluing of introverts, Cain suggests, is as damaging as the centuries-old prejudice against women. 'I really do believe that's where we are,' she says. 'There's a bias against half of the population and they are discounted for a trait that goes to the core of who they are. I also believe that, just as with women in the 1950s, we are poised on the brink of a very dramatic change in the attitude to introversion.'
But what exactly is an introvert? In the popular imagination, an introvert is the wallflower at the party, standing on the edge, too shy to mingle and unhappy as a result. Not necessarily, says Cain. While the extrovert works the room, flitting from contact to contact and enjoying the banter, the introvert makes serious conversation with one or two people and then goes home content. Although some introverts are shy, not all are: they are just people who value their own company and crave time alone to reflect and recharge their batteries.