Rising costs could kill off jobs, warns CBI
The group said some companies would struggle to cope with the living wage, apprenticeship levy and rates.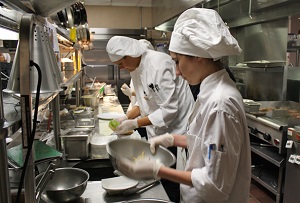 On the face of things, Britain's labour market looks pretty healthy. The country has a higher employment rate than the US, Ireland or France and is catching up with Germany. And more than two fifths of businesses are looking to expand their workforce next year, according to a survey of the CBI's members, published today.
But the business group says there is a risk that the powers that be are getting complacent. Since its surprise triumph in May's election, the government has announced plans for a £7.20 'national living wage' for the over-25s and an 'apprenticeship levy' charge on the payrolls of larger companies. It has also failed to reform the hated business rates system. Business costs are piling up and the CBI says that could threaten jobs growth.
Just one in six of the 342 businesses it surveyed (a small sample size, admittedly) said they supported the levy, and 47% said it would be costly and bureaucratic. The survey was conducted between August and November, so businesses were already concerned about the prospect even before the government announced the finer details of the scheme last month. A tax on jobs is perhaps not the best way to boost the number of skilled people in work.