Risk averse
Every business owner, investor or risk manager would like to be able to predict the possible risks their businesses face and the probable outcomes of their strategic decisions – and then be able to select the best direction to take.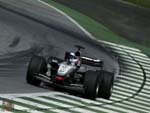 Sadly, SmithBayes corporate software product (smithbayes.com) cannot do this but it can lead its users a number of steps down the right track.
In essence the product is a decision-making platform for handling a broad range of risk and reward metrics available for a product, a business, a portfolio of brands or other business activity facing an uncertain future. It applies a series of tests and calculations to the project and provides a variety of possible outcomes.

SmithBayes' CEO Simon Williams explains the basis for the tool: "Businesses have to live with an unrelenting pace of change and there is a need for strategic decision-making to be ever faster. They may be risking a great deal in terms of money, revenues or brand impact so getting things a little bit right or a little bit wrong could have a huge impact. Take telecoms or pharmaceuticals or aerospace, industries that make big bets on future market conditions. For a telco it's: which bit of the convergence do you want to bet on? If you're in aerospace and developing a new jet engine, how do you respond to the technologies that you're going to have to incorporate in your engines over the next 5-10 years? How are you going to respond to government regulation, noise and pollution issues, for example?