Robots 'threaten 50% of UK jobs'
For now, Bank of England chief economist Andy Haldane is more worried about robots depressing wages than subjugating humanity.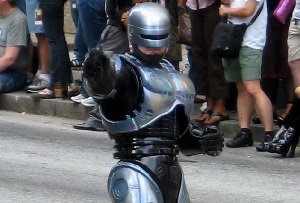 What will you do when a robot steals your job? That's a question half of us should be asking, if Bank of England chief economist Andy Haldane is to be believed. Fifteen million jobs are at risk from the rise of artificial intelligence and advanced robotics - or half the UK total.
Speaking at the Trade Union Congress, Haldane said that unskilled and administrative roles were most at risk from the 'third industrial revolution' of IT, but warned that the rise of technology was 'hollowing out' more and more of the labour market.
'Machines have substituted not just for manual human tasks but cognitive ones too. The set of skills machines could reproduce, at lower cost, has both widened and deepened,' he said.