Rock plunges after cut-price bids
Last Monday there was a ray of hope for Northern Rock shareholders, with the emergence of Luqman Arnold's interest. This morning it's all doom and gloom again – news that the proposed bids for the stricken Rock have come in well below its current market value has sent the share price plummeting again.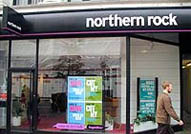 The Rock released a grim statement to the stock exchange this morning, saying that 'the range of values for the existing equity implied by the proposals is materially below' Friday's closing price, and warning that 'the value to shareholders from any of the proposals… remains highly uncertain'. Not surprisingly, investors headed for the hills as soon as the market opened, sending the share price down more than 20% to just over £1. Five months ago, it was trading at £12.50.
So it's more bad news for shareholders - although it can't have come as a total shock. After all, was it really likely that anyone would pay over the odds for an institution in this state, just to save the blushes of the Treasury and the Bank of England?
Still, it's been an eventful few days for the Rock, following Friday's informal deadline for bids. After receiving several expressions of interest (including firm proposals from Arnold and Virgin), chief executive Adam Applegarth finally fell on his sword, along with half the board.