Rock sinks out of the big time
Beleaguered Geordie lender Northern Rock suffered its latest indignity on Wednesday, when it was dumped out of the FTSE 100. And now, it's revealed that chief executive Adam Applegarth has decided to slope off six weeks earlier than planned.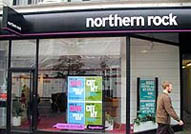 The list of the UK's biggest public companies is revised every quarter – and this time round, based on valuations at the close of play of Tuesday, the Rock was one of seven blue-chip incumbents to drop out (retailer DSG International, housebuilder Barratts and pub owners Mitchells & Butlers and Punch Taverns were also sucked into the relegation dog-fight).
Hours later, chief executive Adam Applegarth was also on the way out, despite originally saying he would stay until the end of January. The Rock named Andy Kuipers as his replacement, though how long he lasts is anyone's guess - both Virgin or Olivant are likely to want their own person at the helm if their bid succeeds.
News of its relegation won't exactly have come as a surprise to the Rock's board, or the various parties interested in buying, selling or closing it – after all, having seen the best part of £5bn wiped off its market value since the summer, it's now worth about 20% as much as the smallest company in the revised list.