Rocky prospects
Could there finally be some good news in store for the embattled employees of Northern Rock?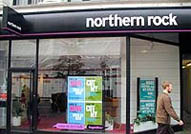 Since the day they woke up to read that their employer had been forced to borrow £10bn from the Bank of England, the bad news has kept on coming for the lender's staff. Within hours, they were fielding huge queues of increasingly irate customers looking to withdraw their entire life savings, which continued until the government finally stepped in guarantee the accounts.
With the Rock's reputation in tatters and its prospects looking bleak, the private equity vultures have inevitably started to circle – specifically JC Flowers, the financial services specialist, and Cerberus, which has made pots of money by buying distressed companies on the cheap and selling them on for enormous profits. Over the weekend, the Wall Street Journal also added buyout giants Blackstone and Apollo to the list of potential suitors. And there are bound to be several others eyeing up the Rock's attractive mortgage book.
However, reports have now emerged that Citigroup and Merrill Lynch, the two banks hired to handle the sale process, are trying to put together a £10bn funding package. This could be used to support a takeover deal, but there is also a chance that the pair could lend to the Rock directly – allowing it to continue as an independent entity.