Rok stock shock as housebuilder collapses into administration
A nasty shock for Rok shareholders as 'the nation's local builder' suddenly raises the white flag and calls in the administrators...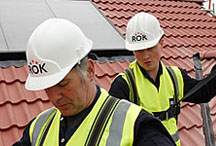 After issuing two profit warnings this year, partly caused by a major Rok-up in its financial reporting, everybody knew that housebuilder Rok had problems. But it had seemed to be getting its act together; recent statements have been more positive and its directors have only recently been buying extra shares in an attempt to boost confidence in the stock. So today's news - in a brief statement this morning, Rok said it had called in the administrators and asked the FSA to suspend trading in its shares - still seems to have come as a shock to the market. There are going to be a lot of angry shareholders with very burnt fingers...

On the face of it, it might seem odd that a housebuilder is going into administration, given that the construction sector is currently powering the UK economic recovery - accounting for a big chunk of GDP growth last quarter. Like many of its brethren, Rok suffered from the poor weather conditions in the first half of the year. But unlike many of its rivals, it also found itself with an accounting problem: CEO Garvis Snook suspended his FD in August after discovering 'serious failings in the financial controls' of the business, with revenues overstated and costs not properly recognised. This led to a second profit warning in three months, and 45% drop in its share price.

On the other hand, Rok also insisted that it could still meet its banking covenants - and as recently as September, the builder said in a statement that it continued 'to have confidence that it would meet market expectations' this year. In early October, senior managers (including Snook) bought a load of new shares, and a couple of weeks later, Rok announced a big deal with Tesco. No indication there of a business that was on the verge of pulling the plug.

So what went wrong? Well, the short answer seems to be that nobody really knows. Perhaps the banks moved the goalposts? Perhaps a big contract fell through? Whatever the reason, there was no real explanation in today's statement - and we imagine the absence of information will mean a lot of rather irate shareholders, who now face the very real prospect of seeing their equity suddenly wiped out. And it could be equally bad news for (at least some of) the 2,000 tradespeople the group employs.

With social housing likely to feel the squeeze as a result of the spending cuts, the travails of Rok - and rival Connaught - are, to some extent, to be expected. But the general surprise that has greeted today's announcement suggests some communication issues, to say the least…
Was Rok right to keep insisting that all was well? Let us know what you think below.