Rollercoaster crash hits Merlin earnings
Last month's disaster at Alton Towers hurts profits, but that belies its owner's exemplary handling of the aftermath.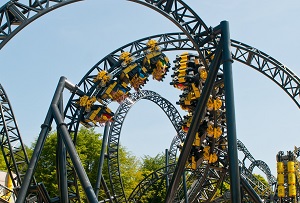 Merlin Entertainments has announced its earnings will suffer from the 'adverse impact' of the Smiler rollercoaster disaster at Alton Towers. No. Kidding. Shares in the firm slid 7% this morning on the 'news', before recovering to 406.5p by mid-morning, 3.9% down.
No one will have been surprised that last month's crash, which injured 16 and caused two young people to lose legs, should have affected Merlin's business. The fact that Merlin released this information a few days ahead of its first half results may have raised some twitchy investors' eyebrows, however.
Merlin said its projected underlying earnings (EBITDA) for the full year would be between £40m and £50, compared to £87m last year. It faces a 'significant reduction in revenue' over the crucial summer months, affecting Alton Towers in particular but also its other theme parks, and said the disaster could hit profitability in 2016 too.