Rollercoaster disaster haunts Alton Towers owner Merlin
Merlin Entertainments keeps the spooky theme park closed after carriages crash on The Smiler rollercoaster.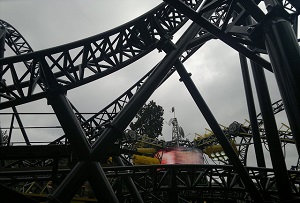 Getting strapped into a rollercoaster is much the same as getting into an aeroplane. Both are statistically far safer than their more prosaic alternatives like cars or climbing frames, but both also involve surrendering control – or the illusion of control - of your safety. As a result, when something goes wrong, there's a disproportionate level of outrage and fear.
On Tuesday, two carriages on The Smiler rollercoaster in the ghost-themed Alton Towers collided at speed. Four people suffered injuries, some apparently 'life-changing', and then had to endure a four hour rescue, suspended 25 feet in the air.
The Staffordshire park, which is owned by FTSE 100 firm Merlin Entertainments, remains closed as it investigates what went wrong. 'The safety of our visitors is our primary concern,' said Merlin boss Nick Varney.