Rolls-Royce looks East for new boss as CEO Rishton departs abruptly
Rolls-Royce CEO John Rishton is stepping down, to be replaced by the former boss of ARM - and amateur organist - Warren East.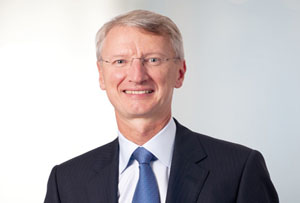 Rolls-Royce CEO John Rishton is stepping down, to be replaced by the former boss of ARM - and amateur organist - Warren East.
Rishton, who is leaving by mutual agreement on Jul 2, has been at the controls of RR for four years, which he joined from Dutch retailer Ahold. East was CEO of ARM from 2001-2013 and has been a NED at RR since January last year.

It's all quite surprising, given that only a few days ago RR announced its biggest ever deal, a £9bn plus contract to make engines for Emirates A380 superjumbos. Rishton, you might have thought, would have been ready to stay on for a bit longer after landing such a coup.

On the other hand, maybe he thought it was time to go out on a high - and there haven't been too many of those during the latter part of his tenure. The firm's share price crashed by a third during the course of 2014 after a string of profit warnings and badly-handled communications with investors. There was also the little matter of an SFO investigation into deals in China and Indonesia. No wonder that the rumblings of discontent amongst shareholders have been brewing.

East's appointment marks a substantial step up for the former ARM CEO. For while no-one can quibble with his performance at mobile chip-designer ARM - which on his watch grew from tiny Cambridge start-up to the UK's most successful home-brewed tech company - the transition from low-friction ARM (which was a FTSE 250 for much of his time there) to iconic FTSE 100 heavy hitter Rolls-Royce, with 54,000 employees worldwide, is no small matter.

Designing and licensing chips for smartphones doesn't, on the face of it, have that much in common with making aero engines, marine propulsion systems and industrial power equipment. But East is an engineer by training and also the kind of thoughtful and results-oriented individual who likes to achieve first and talk about it afterwards - well suited to RR's corporate ethos which is very much about the excellence of the team rather than of any one individual, even the boss.

Besides East, who once described himself as 'a luddite when it comes to gadgets' may well be looking forward to getting his hands on some real - rather than on-screen - engineering. He will reportedly trouser a basic salary of £925,000 for the role.

RR's shares rose a modest but significant 5% on the news, and one thing is certain - after a pretty torrid period the firm's long-suffering investors will be looking for a prompt improvement in the firm's fortunes. It seems unlikely that East is going to have much time for his hobby of playing the organ come July when he takes over the reins.