Rolls-Royce rallies after it identifies engine problem
Rolls-Royce says it's worked out what's going wrong with these aircraft engines - and it won't be too costly to fix.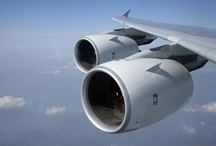 Since that Qantas A380 plane was forced to make an emergency landing after its engine exploded last week, one of the biggest problems for engine-maker Rolls-Royce has been uncertainty - with the company keeping its cards very close to its chest, investors have had ample opportunity to fret about worst case scenarios. But now Rolls has apparently got to the bottom of the issue - and all it will take to remedy the problem is to replace a specific part in the engines of some 20 planes. The bad news is that this might take a bite out of profits this year - but it'll be a much smaller bite than many investors will have feared.
The big problem for Rolls would have been if the fault that caused last week's explosion pointed to a flaw common to all its engines, particularly if that flaw had turned out to be complicated and expensive to fix. The fact that Rolls has largely refused to talk about the issue in public before completing its investigation didn't exactly reassure the markets either (although it was arguably the most sensible approach).
However, in a statement this morning, Rolls-Royce said it had drawn two key conclusions from its investigations: first, the issue definitely only applies to the Trent 900 engines; and second, it has traced the problem back to a specific component 'in the turbine area', which caused an oil fire and 'led to the release of the intermediate pressure disc' (you know the one, right?). Rolls is now working with Airbus and its customers to replace this part, which according to reports means repairing 20 A380s currently in service.