Rosemary Squire is the first woman to win EY's Entrepreneur of the Year
The co-founder of the Ambassador Theatre Group leads a bumper year for women in business at the awards. Is that the sound of glass cracking?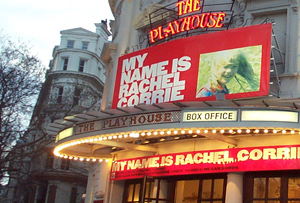 Rosemary Squire, the co-founder of Ambassador Theatre Group, has become the first woman to win the British edition of the prestigious EY Entrepreneur of the Year award. Squire won the private equity-backed and overall gongs in a ceremony glittering enough for theatre-land itself.
Squire and her husband Sir Howard Panter 'teamed up 23 years ago with a mama and papa theatre' to found Ambassador Theatre Group (ATG), she said in her speech at the Brewery near London's Barbican, a Vikingesque banqueting hall draped with fah-bulous azure lights, darling.
It is now overwhelmingly the largest theatre group in the world, with forty venues, including the largest on Broadway. Squire announced on the night that ATG were buying another in New York (though she didn't say which).