Round Table: Setting the wellbeing agenda
What are the links between healthy employees and healthy organisations, and how good are UK employers at encouraging their staff to adopt healthier lifestyles? MT and UNUM bring together some experts to find out.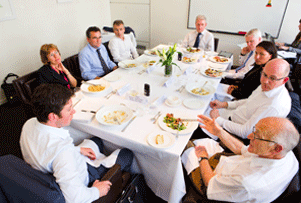 ON THE PANEL: Peter O'Donnell - chief executive, Unum; Tony Jackson - Head of HR, Macmillan Cancer Support; Nick Bacon - Professor of human resources, Cass Business School; Nikki Gatenby - MD, Propellernet; Ian Wylie - special projects editor, Management Today; Dr Maurice Lipsedge - chair of the Royal College of Psychiatrists' occupational psychiatry special interest group; Alison Dunn - head of treatment, Transport for London; Damien Marmion - UK managing director, Bupa; Ben Willmott - head of policy, CIPD.
---
Ian Wylie: What issues keep business leaders awake at night when they think about the health of their employees?
Nick Bacon: Big demographic changes. We know about the ageing workforce, about the increase in contract work and insecure work, about underemployment and financial stress. The big question for me is, what are employers doing to help employees cope with those issues? What can they do to try and ensure that employees have more satisfying working lives and more security at work, and beyond work?