Route to the top: Six ways to swallow your pride
When you get it wrong, don't be afraid to say so - even if it means swallowing your pride.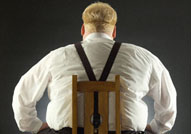 Stop the buck. When bosses at a bank announced a restructure, they were surprised at how well employees reacted. Why? 'Someone from HQ admitted they made a mistake.' Blaming technology, the recession, or your team may help you out of hot water, but accepting responsibility gets you further.
Spell it out. 'Sorry' is uttered 368 million times a day in the UK, usually as a reflex. Sincerity requires specifics. 'I was wrong' is good. Better is: 'I was wrong to promise the client a 24-hour turnaround.' And better still: 'I was wrong to promise a 24-hour turnaround and tell the team via e-mail rather than in person.'
Make amends. Grovelling feels terrible, looks disingenuous and achieves little. But swallowing our pride can involve more than an apology. Compensate the wronged by repairing the damage (explanatory e-mail to upset client), relieving their pain (covering their 8am meeting), or treating them (an early finish).