Rowling riches tell a false story
The millions made by top authors paint a rather misleading picture of the publishing industry...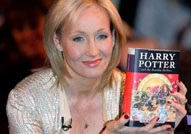 Those compulsive list-makers at Forbes have just produced their latest ranking of the world's richest authors, and there's some serious wedge on display. Top of the tree is our very own JK Rowling, whose annual income of £160m has taken her total fortune to £560m, while even Nicholas Sparks in tenth (who's relatively obscure in this country) raked in a tidy £8.5m. So there's still some serious money in book-writing. Unfortunately for the vast majority of authors, this lot get most of it…
Even in this illustrious company, Harry Potter author Rowling stands out a mile. Her yearly income was six times more than her nearest challenger, crime pap writer James Patterson, and more than all the rest of the top ten put together. Obviously the 375m copies of Harry Potter sold worldwide are a big reason for this – but these days Rowling is also coining it from merchandising, sponsorship deals, video games, film rights and soon, a themed amusement park at Universal Studios. In fact, such is the extent of the under-age wizard's world domination that he's now earning her £5 a second.
Film rights are obviously a major part of authors' earnings these days. Fellow Top 10ers Stephen King, Tom Clancy and John Grisham have all had several books turned into films, while even Sparks in tenth has benefited from three decent box office successes, including 1999 chick flick 'Message in a Bottle'. Some are also extending their author brands' – for example, Patterson now puts out about eight books a year with the help of his 'writing partners'. Only the cynical would suggest that he just puts his name on the front of most of these so they sell more copies, but it's clearly proving to be a lucrative arrangement. After all, if Damien Hirst can have his spot paintings made in a factory, why should authors write all their own books?