Royal Mail back in the black
For the first time in four years, the postal service has turned a profit, and the future is looking brighter...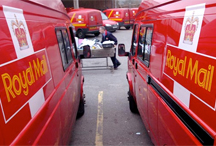 Thanks to its massive pension fund and the advent of email, concerns about Royal Mail have weighed heavy on the heads of its bosses in recent years. But 2012 has been a bumper year in some way: the government is taking responsibility for the pension fund, and now the delivery service part of the business has made a profit of £23m on revenues of £7.2bn. They must have got a thrill posting those results!
Now that the government has bought the pensions liabilities, it is thought that parts of the business will be sold to private investors. This is seen as being part of the reason that the price of stamps jumped substantially this year, with first-class up from 46p to 60p, and second-class up from 36p to 50p. Evidently there is still a need to rake in some more cash to get the postal monolith on an even keel.
It is worth pointing out that almost any business can post amazing profits if a once-enormous pension scheme is taken off their hands. Not to mention that Royal Mail is already a shadow of its former self.