Royal Mail fails to deliver
More bad news for Royal Mail: profits fell by a third last year. People just aren't sending enough post.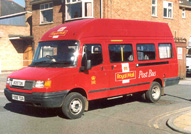 The beleaguered organisation has revealed its profits fell by 30.4% in the year to the end of March, with its stamped letter business posting its first ever loss – caused largely by the fact it's handling about three million fewer letters each day than this time last year. The organisation made £162m during a year of 'difficult challenges'. And these challenges extend beyond a whole email generation growing up far more at home with bytes than stamps.
Royal Mail's parcel delivery businesses, GLS and Parcelforce Worldwide have seen increased sales, but profits were hit by 'competitive pressures'. Royal Mail is also burdened by its responsibility to handle the universal mail delivery service, i.e. delivering to and collecting from every address in the UK. As you can imagine, profits from this logistical nightmare are harder to come by. Royal Mail estimates it is set to lose 6p on every stamped letter and parcel it delivers, despite having just put the price of stamps up again. To send a letter first class now costs 36p.

All of which backs up our analysis yesterday following the DBERR report into the liberalisation of the postal market: that Royal Mail is looking royally stuffed. Not only are people sending fewer letters, but the organisation is facing stiff competition in the only part of its business that has any commercial potential. Indeed, it's no coincidence that while rivals are rife in the lucrative bulk mail collection and sorting market, remarkably few seem keen to dirty their hands in universal delivery. Which suggests that, unless someone does something radical, Royal Mail will continue to struggle.