Royal Mail IPO: Free shares for posties
The £2bn - £3bn float is to go ahead with shares available to staff and the public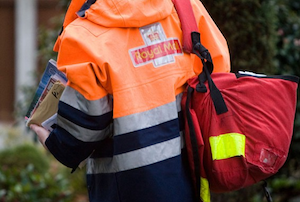 Privatisation of the Royal Mail is finally underway, with business secretary Vince Cable expected to announce further details of his controversial plans to float the business.

One of Cable's flagship announcements is likely to involve the government giving Royal Mail staff a 10% stake for free - although there are whispers it might be more like 'almost free' or 'buy-one-get-one-free'.

However the shares are doled out, though, Cable expects the Royal Mail's 150,000 employees to receive up to £300m of shares once the company has been completely sold, valuing the 497-year old British institution at up to £3bn, (although that might not be enough to put it in the FTSE 100).

Cable will also reveal the date of the IPO - thought to be towards the end of the year - and also details of the size of the stake to be sold.

Business minister Michael Fallon is particularly pleased about the plans, expecting great things from the transformed company: 'It's been turned round in the last two or three years, and it's ready now to be a successful commercial business,' he told the BBC's Today programme.

Fallon's certainly right when he says the company has enjoyed a turnaround – under chief executive Moya Green it has gone from posting huge losses (it was in the red for four consecutive years) to announcing operating profits of £403m in 2012, while revenues rose by £9.15bn.

Despite their free (or BOGOF) shares, though, Royal Mail's employees remain resolutely opposed. Back in June, a vote carried out by The Communication Workers Union (CWU) found that a colossal 96% of employees were against the move.

It remains to be seen how the 10% shares sweetener will go down, but if general secretary of the CWU is anyone to go by, the answer is not very well: he announced postal workers would not 'sell their soul' for a 10% stake.
'Nobody outside of government and their potential investors wants their postal service sold,' he said. 'The public consistently opposes the sale and recently 96% of workers voted against.'
Employees aren't the only ones expected to get their hands on Royal Mail shares. The public is expected to be able buy shares in the postal giant but despite rumours, there won't be a massive Tell Sid-esque marketing campaign as the government tries to sell-off shares as quickly and quietly as possible. It seems likely that institutional investors such as pension funds will take most of the stake.
The success of this sell-off will boil down to whether or not the government can persuade us that the Royal Mail will flourish on its new 'listed' role. With very few assets left to call its own, the prospect of a first class return on any investment isn't as sparkly as they might hope.