Royal Mail letters business plummets, but parcels may prompt privatisation
The Royal Mail has reported a massive jump in half-year profits despite a continuing fall in the number of letters posted in the UK.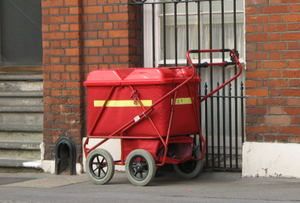 Clamour is growing for one of the biggest privatisations in decades, after it emerged that the Royal Mail has posting group operating profits of £144m in the six months to the September, compared with just £12m in the same period the previous year. The uplift has come from 13% rise in parcel deliveries – they account for almost half of total group revenue. Furthermore, whilst the number of letters posted fell by 9%, revenue from them actually rose 2% because of an increase in the price of stamps earlier this year.
In its interim report, the firm said: 'Preparations are now underway for the sale of Royal Mail Group. Obtaining external capital is a key part of the transformation process as we become a more parcels-focused business and make the investment in technology to do so.' Many are surprised that Royal Mail still has any letters at all to deliver, given that practically every person with a desire to communicate with friends has some form of internet access. Outside of greetings cards in the festive season and for weddings and birthdays, the letters market is, to all intents and purposes, kaput.
Royal Mail's chief executive, Moya Greene, said that all of the main operations of the group were now profitable. She said that if the UK parcels, international and letters business (UKPIL) was isolated, then a loss of £41 in the half year to last September had now been turned around, into profit of £99m. She said: 'Royal Mail has experienced the negative impact of e-substitution, which is driving the structural decline in the traditional letters market. Conversely, we are seeing the positive impact that online retailing is having on our parcel volumes.' Online sales now account for around 8% of all UK retail, so the number of parcels in circulation at any given time is massively greater than it was pre-internet.