Royal Mail profits inch up - but it has big problems to address
Royal Mail has reported a small rise in profits, and a potentially enormous one in its pension deficit.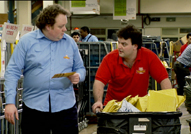 At first glance, today's Royal Mail results might seem like further grist to the union mill: a 4% increase in profits during the first half of the financial year, at a time when it's insisting on the need for painful cuts. But look a little closer, and it's clear just how bad things have got for Royal Mail. We're sending 3m fewer letters per day than we were this time last year. Its pension deficit is apparently about to rocket from £3.4bn to more than £10bn. And these latest figures don't even include the impact of the recent strikes…

Let's start with the good news, because Royal Mail hasn't delivered much of that lately (or anything else, for that matter). Group first-half operating profits of £184m were £7m up on last year, a 4% rise, while all four divisions – Letters, the Post Office, Parcelforce Worldwide and the GLS European parcels business – finished the period in the black. Chief exec Adam Crozier attributed this to 'strong process in our modernisation plan', including more than £1.3bn of investment in stuff like sequencing machines (which help posties do their rounds more efficiently), Large Flat sorters (to, erm, sort large flat mail) and electronic trolleys (so people don't have to lug big sacks of mail round the sorting office). People costs were also down £170m – or as the unions would put it, it's chopped 5,000 jobs, mainly from the Letters business.

But that's about as good as it gets. Revenues were down once again, thanks largely to the ongoing decline in mail volumes: Royal Mail delivered about 72m letters a day between April and September, 3m less than the previous year and 12m less than the year before. No doubt the recent strikes, which happened after the end of this period and so aren't factored into the results, will have alerted even more people to the joys of email. Equally, the state of the economy made it hard to flog financial services via the Post Office (although it still manage to increase profits by 50% after a cost-cutting drive – possibly by losing most of its staff, if the queues in MT's local branch are anything to go by).

And then there's the pension fund deficit, which is currently being recalculated and could apparently rocket from its previous valuation of £3.4bn (in 2006) to 'at least' £10bn. It sucked up another £300m in cash during the first half, on top of the £800m it consumed last year; Crozier admits funding it is a 'daunting challenge'.

We'd like to think that ominous numbers like these would encourage management and unions to get back around the table and thrash out a long term plan for Royal Mail's survival. However, it seems equally likely that unions will see this increase in profits and question the need for any further redundancies.