Run a business from your mobile phone
You can now run your entire business from your smartphone or tablet. Here are the key tools you need to go mobile.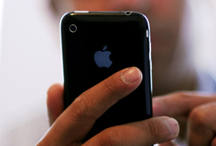 How many business meetings have you been to lately where someone hasn't pulled out their smartphone or iPad to take notes or to look up information?
Thanks to the wonders of technology and the ever-developing cloud, small businesses are taking advantage of the power of mobile, and owners are being liberated from their desks. A recent PeoplePerHour poll found that a staggering 73% of business owners use apps to run their businesses on a daily basis.

The most obvious advantage is the freedom; having the ability to keep in touch with staff and clients from anywhere with an internet connection. If you think that your mobile or tablet isn't meant as a business tool, think again. As they say, there's an app for everything, including streamlining processes and operations. Business apps include the basics, like email and calendar management, to CRM tools, accounting, HR and even sales, which could mean a real difference to your bottom line.
The top ten apps for small business owners who want to run their firms on the go are: