Published: 17 Apr 2019
Last Updated: 21 Aug 2020
The idea of having an organisation with no hierarchy sounds, on the face of it, like a contradiction in terms.
Many of the historical examples of unstructured companies do little to change this view. The Amazon-owned shoe retailer Zappos, perhaps the most notable proponent, still operates a 'holacracy' system of flat management after introducing it in 2014, but also operates a regularly revolving door of staff, while the US games developer Valve has been plagued by accusations of cliques and bullying since it adopted a 'no boss' culture in 2012.
But Jason Trost, CEO of online betting exchange Smarkets, wants to change that view. Founded in London in 2008, the company says it operates its own "pragmatic", "bottom up" and flexible management structure, that enables employees the chance to move up and down the business, switch roles and generally have more input in decision making then a typical hierarchical structure would allow.
To say that there's no hierarchy is probably stretching it. Smarkets has an executive team of six (including Trost), but below that employees are essentially given leeway to make their own decisions and manage their own workload.
Leadership teams are created, job roles change and departments built or "destroyed" depending on the needs of individual projects.
It also has a radically transparent approach to wages: each employee essentially chooses their own, which is then published on an internal forum for the rest of the workforce to vet (see this piece for more detail).
The outcome, Trost says, is an organisation that is ultimately more reactive to market pressures, completely transparent and efficient.
That all sounds a little… chaotic?
It's complicated and requires constant tweaking, but ultimately the system works, explains Trost.
"There are things I love about the system and things I hate about it."
The biggest benefit is the flexibility, which enables the company to react quickly to changes in the market.
"Traditionally if you appoint a VP of engineering this comes with subordinates, an office and other expectations," says Trost. "You can't easily change that, but with our system it's not seen as a climb down if we move you around or to another team."
Another example is when the company transitioned from co-located hardware to cloud software - which can be hard in the heavily regulated world of betting. Trost speaks of how one of the engineers took it upon himself to get the ball rolling ahead of the change, get to grips with regulation and successfully saw the project through to completion.
Smarkets has also been able to save on management costs. Trost oversees the company from an office in LA and there is a small European office in Malta, but the majority of the company's 120 staff are based in the London office.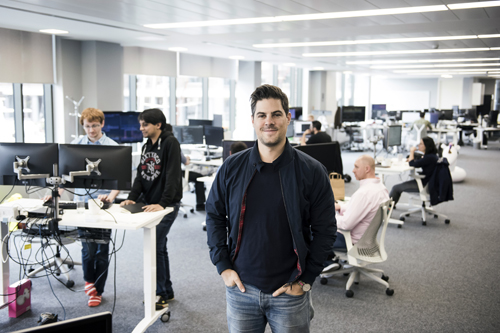 Trost runs the company from LA
"I never receive any direct reports. So people are not waiting for me to sign anything off, which enables them to be more independent and think on their feet," says Trost. The pull of potentially greater autonomy and ownership has also helped the company when it comes to attracting talent. But letting people choose their own ways of working is not without its challenges.
It was "quite expensive" to resolve the problems caused by the fact that the company was using eight different storage databases and many of its back-end systems were written using different code languages - which can cause arguments in the sectarian world of computer programming.
It's also very easy for people to not take responsibility," says Trost. "The nice thing about a traditional hierarchy is that everybody knows where they stand and you don't have to communicate it."
The largely positive reviews left on the job hunting site Glassdoor suggest that the toxic culture and cliques that apparently plagued Valve are not a problem at Smarkets, but employees do mention confusion at the ever-changing roles of the management team, something Trost himself acknowledges, saying that negativity can also spread faster than in a traditional company, because teams are not restricted to individual silos.
Making it work
Dealing with all these challenges and keeping everyone pulling in the same direction is where the executive team - or team captains as Trost likes to see them - come in. Trost, as CEO, has three responsibilities, hiring and firing, setting the overall vision and making sure there's cash in the bank for it. Other than regular team meetings, his schedule is kept fluid to ensure that he is around when needed.
So could this work for everyone? Trost is quick to point out that the implementation of the system was far from a quick decision. For the first seven years Smarkets operated as a traditional company, with 30 or so staff reporting directly into him.
Once the decision to flatten the hierarchy was made, Trost gave all employees a copy of  Frédéric Laloux's book Reinventing Organisations to ensure buy-in and they "debated" what the system and key principles will look like, something that has required ongoing tweaking as the company has continued to expand.
Ultimately there has to be the "right environment" and culture to make it work - the system doesn't work for everyone.
Silicon Valley fad or the future of business?
It's easy to be cynical, but so far at least the flat, fluid structure seems to be working. VC-backed Smarkets traded over £4.6bn worth of transactions across its platform in 2018, an increase of 46 per cent on last year - though revenues dipped to £21m according to latest accounts. In any case, the company is proudly an established player in a UK dominated remote gambling industry, which has a gross gambling yield of £14.4bn.  
"In our sector I cannot think of another online betting company as small as we are," notes Trost, stating that Smarket's headcount is a tenth the size of industry big beast Betfair, after it merged with irish rival PaddyPower in 2016.
As Smarkets continues to expand, it will put to the test just how scaleable the system truly is. Trost is optimistic it will continue to work as the company grows, but knows that the system will probably require further tweaking.
"I'm really proud of this. I do think of it as an experiment and it may fail, but I think that every business will move towards this model in the end. It makes work so much more interesting and it makes us much more resilient.
"Ultimately the efficient organisations survive and the inefficient ones don't."
---
Image credits
Header: Peshkova/gettyimages
Body: Courtesy of Smarkets