Rupee continues its downward trajectory
Worries the US will begin 'tapering' its stimulus programme have caused investors to pull cash out of emerging markets. Is this a blip, or the beginning of a trend?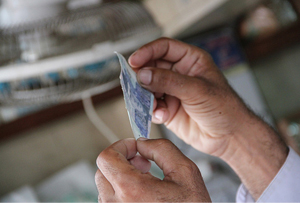 As the Times' Ian King pointed out this morning, the City's new mantra might be to avoid 'emerging market currencies whose name starts with "R"'.
Indeed, over the past couple of days, India's rupee, South Africa's rand, Indonesia's rupiah and Brazil's real have all plummeted against the dollar.
The rupee, in particular, has suffered amid concerns the US' Federal Reserve will soon begin 'tapering' its version of quantitative easing. Having dropped to a historic low of 62.82 against the dollar yesterday, it fell further this morning, to 64.13 (although it has since recovered slightly). That puts its total decline against the dollar at 16% since May, making it Asia's worst performing currency this year.
The problem is that as western economies begin to recover, investors are keen to put their money back into those countries. That means taking money out of emerging markets.
There are a few charts kicking around the internet showing the extent of that – but our favourite is this,
courtesy of Business Insider
, showing the speed at which money has 'whooshed' out of Indonesia over the past few months. (It's worth noting each monthly figure is year-to-date, meaning that since mid-July negative levels have effectively cancelled out the positive inflows seen over the past few months):
Frightening stuff, if you're an emerging economy. Governments have responded by trying to limit capital outflows (in the case of India), or attempting to reduce their dependence on exports and therefore exposure to other economies (in the case of China).
For India, this is starting to look a lot like the currency crisis of 1991, when the rupee fell by more than 32% against the dollar. In the end, the country only had enough foreign currency reserves to cover its borrowing for 15 days and it had to be rescued by the International Monetary Fund.
This time, embattled finance minister P Chidambaram has assured investors it won't be seeking help from the IMF.