Rupert Murdoch is merging the makers of MasterChef, Big Brother and American Idol
The octogenarian media mogul is combining Shine Group with Apollo-owned Endemol and Core Media Group to create a production powerhouse.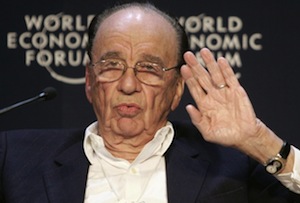 Rupert Murdoch's media empire is dealmaking like there's no tomorrow (it's founder being 83 might have something to do with it). Earlier this week BSkyB confirmed it wanted to buy Sky Italia and Sky Deutschland from 21st Century Fox, which would consolidate the Murdochs' pay TV assets, then yesterday Fox said it was merging its TV production company with those owned by private equity firm Apollo.

The joint venture will combine Shine Group, the production company founded and chaired by Murdoch's daughter Elisabeth that makes MasterChef and One Born Every Minute, with Big Brother maker Endemol and American Idol creator Core Media Group (the latter two owned by Apollo). That's some serious reality TV real estate right there.

After the phone hacking scandal derailed Murdoch's long-cherished ambition to combine his TV, film, publishing and newspaper businesses into one media megatron, it looks like he is back on the consolidation bandwagon in the more lucrative half of his empire. Last year, Murdoch hacked his business in two, separating his screen companies from his paper assets.

The joint venture also makes sure Murdoch stays at the top table in TV production, after a spate of deals this week. American media and Cable TV giants Discovery Communications and Liberty Global agreed to buy British company All3Media, which makes everything from Midsomer Murders to The Only Way is Essex and Embarrassing Bodies, for $930m (£554m). Meanwhile, ITV is in line to snap up The Real Housewives of New Jersey creator Leftfield Entertainment for $360m.

With Murdoch and his rivals flashing the cash left, right and centre, the media world is more exciting than Craig 'Cheeky Craig' Phillips versus Nasty Nick at the moment. Someone should make a TV show out of it.